Thrift Store Shopping at Christmas
Thrift store shopping has become a popular trend, especially during the holiday season. It offers a unique and budget-friendly way to find hidden gems at bargain prices. Whether you're looking for Christmas decor or seeking inspiration for upcycling projects, thrift stores are treasure troves waiting to be explored.
Vintage is the name of the game! These vintage funnels have found new life as Christmas tree decor!
Spindles can be found on old chairs, baby beds, and more at a thrift store and can then become things as cool as this!
A thrift store is a great place to find old rolling pins and look at how awesome they can be!
When it comes to holiday shopping, a thrift store offers an array of second-hand treasures that can add charm and character to your festive decorations. From vintage ornaments to unique wreaths, you'll find one-of-a-kind items that will make your home stand out during the holiday season. Not only will you save money by shopping at your local thrift store, but you'll also contribute to sustainable consumption by giving pre-loved items a new lease on life.
In addition to holiday decor, a thrift store will provide endless possibilities for upcycling ideas. With a little creativity and DIY spirit, you can transform ordinary items into extraordinary pieces. From repurposing old picture frames into chic serving trays to transforming vintage clothing into trendy fashion statements, the possibilities are endless when it comes to upcycling thrift store finds.
Vintage tins can be found in many places. Put them together with a scrap piece of wood and some holiday floral stems and voila!–you have Christmas decor!
You can just about bet you can find any number of mirrors at any thrift store. Add a little paint, stencils, and glass etching and create a beautiful vignette.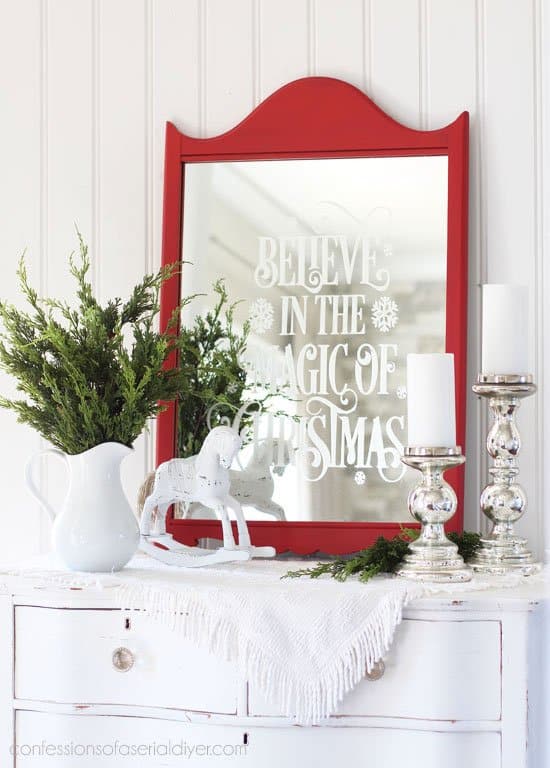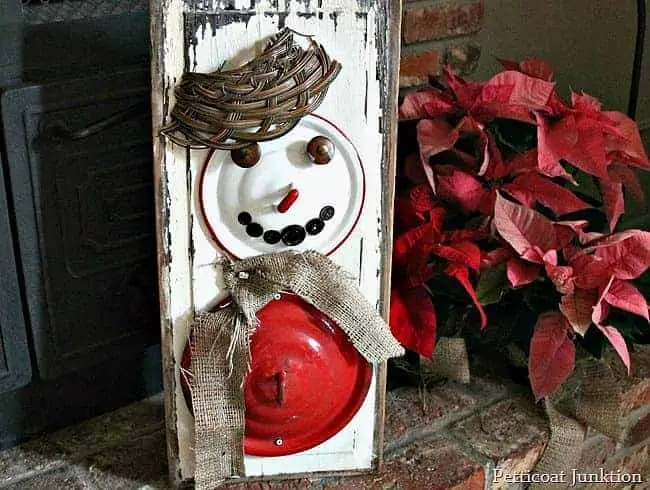 Could there be anything cuter? I say no!
Christmas items and anything else can be put together for a beautiful Christmas vignette.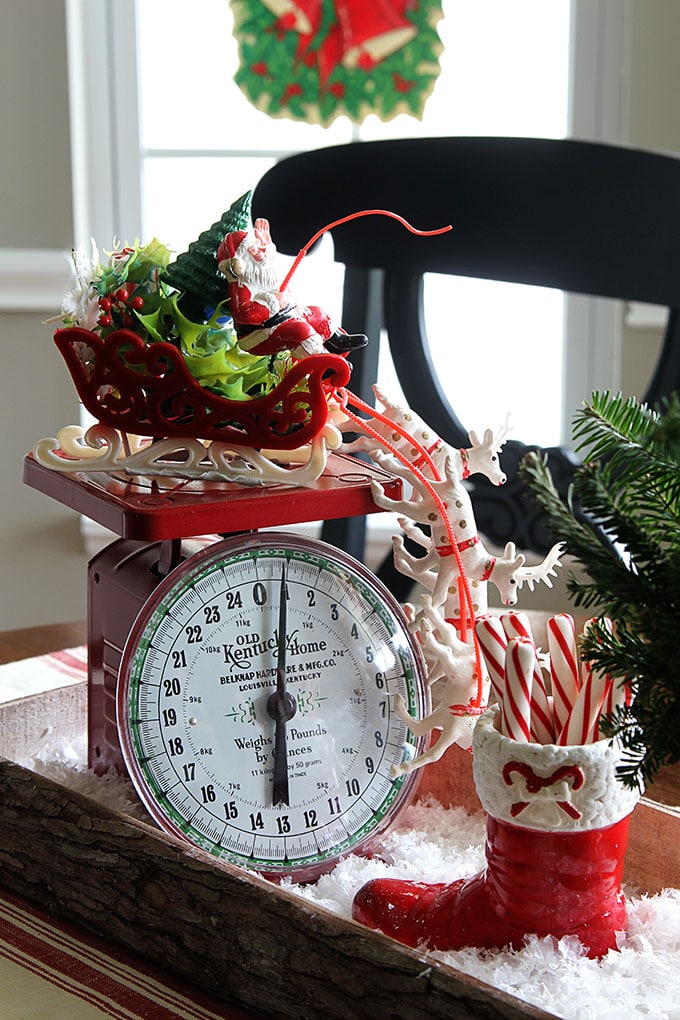 They're in every Hallmark Christmas Movie and when you find them, you can use them to decorate!
DIY Christmas Wall Decor
An old sweater, an embroidery hoop, Christmas sprigs, and a Christmas message…instant wall decor.
So why spend a fortune on brand-new holiday decorations or discard perfectly good items when you can discover hidden gems at bargain prices? Thrift store shopping not only allows you to save money but also encourages sustainability and unleashes your creativity. Embrace the thrill of hunting for unique treasures and get ready for a truly memorable holiday season filled with charm and individuality.
You may also want to check out some of our other Holiday posts such asCozy Farmhouse Christmas,Whimsical Christmas,Beautiful Blue Christmas,27 Christmas Theme Options, and more!
---
SO MUCH MORE IS ON ITS WAY!
Don't miss anything in our upcoming posts in theBudget Friendly Christmas DecoratingSeries! There is so much more to see!
Budget Friendly Christmas Decorating
---
MORE WAYS TO CONNECT
We also, as a homesteading family, have a variety of blogs that might interest you.A Life on the Farm focuses on the more personal side of the homesteading life. We discuss subjects like family, parenting, relationships, homeschooling, cooking, canning and so much more.
Two Oaks Farm Talkconcerns the more technical side of homesteading. We discuss subjects like gardening, food prep, and farm building and construction with lots of tutorials!
Farm Raised Familyis basically a hub for everything under the Two Oaks Farmstead umbrella. You can learn a great deal about all parts of the farmstead there. TheFarm Raised Family blogfocuses on financial matters such as budgeting, saving, and more and on current events affecting families.
You can also have a more in depth look at all that we do by visiting ourTwo Oaks Farmstead YouTube Channeland be sure to subscribe so that you don't miss a thing!
Farm Life and Freedomis the new podcast we are in the process of launching! It is going to be so much fun! You could also check in with our Farm Life and Freedom Youtube Channel.
Two Oaks Farmsteadis the farm store… the one that holds the umbrella! Check us all out and join us, not only on our blogs andFarm Life and Freedom podcastbut come join the fun on Facebook, Instagram, Twitter… wherever you get social!