Decorating by Color Theme – It's a Red and White Christmas
When it comes to decorating your home (or anywhere else for that matter) for the Christmas season, one of the things that you want to begin with would be a theme. There are so many themes out there from which to choose. One way to go would be a color theme. A red and white Christmas theme is one of my absolute favorites!
So, you have a theme, now where to begin? Christmas decor is typically centered around a Christmas Tree, so that is always the best place to start. Below, I have compiled some terrific ideas for a beautiful red and white Christmas.
Decking a Christmas Tree out from top to bottom in beautiful red and white ornaments is a great way to start your red and white Christmas theme. Red is such a bright and happy-making color. Blended with 'snow' white, it evokes Merry-ment and Pepper-mint!
In this photo, the red and white stripes from the ornaments, spill over into the surrounding decor as well, tying it all together.
This flocked tree is adorned elegantly in red and white ornaments and ribbons with the additional touch of holly berry sprays. This look is not overdone at all and even leans to a more natural or rustic feel.
This particular tree is one of my favorites. It is simply but still so beautiful. The small touches of red are perfect on the sparse tree and the banners add a nice eclectic touch. But with this Christmas tree, the real topper is on the bottom. The coordinating package wrap completely sets off the entire look!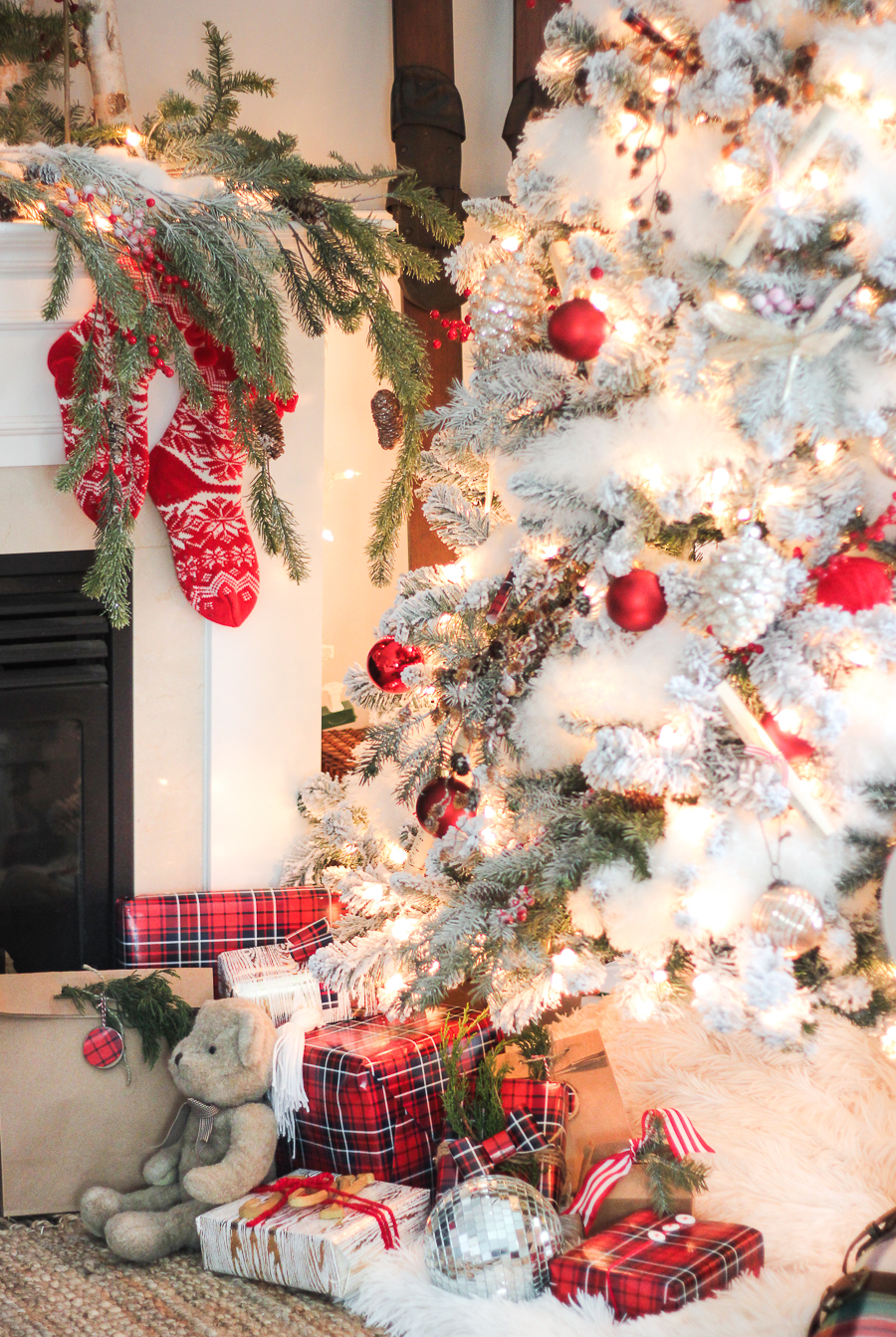 This beautiful set up just looks as though it needs to be surrounded by a big family with lots of love and children. The snow effect on this tree actually gives the feeling of cold snowy days. Just a few ornaments scattered about are perfect and the additional touches of decor on the mantle really carry the decor across.
The entire set up in this photo feels like a very country Christmas. The natural tree and the traditional style ornaments are perfectly at home in this setting.
The Rest of the Story
Your Christmas decor is much like telling a story. Sure, you have a Christmas tree, but what is the rest of the story? What's the backstory? Where does it go? How does it all tie together? When you take your Christmas Decor throughout the rest of your home, it takes that feeling everywhere. And, it doesn't have to be huge elements, just a statement. Small touches of your chosen theme color stretched out across your home become the perfect bow on the whole package!
Don't overlook those little elements of decor that can really help you stretch your theme out across your home. Excess ornaments can be stacked up in a pretty bowl or basket and placed in a great spot next to a couple of other small elements to bring together a cohesive look.
Candles, candlesticks, ribbons and bows; scatter them about to unite your decor!
Little touches of holly berries, cranberries, ribbons and lace. They can all add a special and beautiful touch to your red and white Christmas.
Put a Bow on it
When you are pulling your red and white Christmas decor together, call the family in to help out, turn on the Christmas music, make up a batch of Hot Chocolate and enjoy your time together. And don't forget the real reason for the season. The birth of Jesus Christ. It is a day worthy of celebration! Merry Christmas everyone!
NEVER MISS ANYTHING
Don't forget to subscribe so that you can get all of the upcoming recipes and more! And while you are at it, be sure to go and subscribe to theTwo Oaks Farmstead Youtube Channelbecause that is where content fromA Life on the FarmandTwo Oaks Farm Talkcollide! Don't miss out!