New Generation
A little over a year ago, our family was blessed with a new generation on the homestead. My beautiful daughter gave birth to a precious little boy who has stolen all of our hearts. Virgil Nash Miller is a happy, feisty, and much-loved young man and we are all starting him out properly with good, down-home homestead training!
A Dream Realized
It has been my dream for so many years; to have my children nearby, with their own homesteads right here with us and that is exactly what we have begun. Of course, it wasn't easy getting to this point and I'm not just talking about all of the work that it has taken us to have what we have. We have gone from devastating loss to miraculous life in a few short years.
It was five years ago that my beautiful daughter suffered the most horrendous loss that a mother can suffer. She lost her daughter, Brighton, just a few weeks from delivery. It was such an out-of-the-blue development, that we were all in shock, but, of course, Paxton suffered the most.
There were times that I wasn't even sure if we would ever get her back from the depths of depression into which she fell. But, we all kept trying; we kept praying and we kept striving for that future time when she would be able to smile again. She was strong at times and weak at others, as would be expected. All of those moments, however, came together in helping her to recreate her life and move forward.
Her subsequent pregnancy brought joy and fear alike and she pushed through like the warrior I've always known her to be. Her perseverance in the face of utter devastation has been rewarded with new life; her rainbow baby. His name is Virgil Nash. God has blessed us all with this precious little boy, our family's new generation.
Our New Generation was Born Amid Pandemic
The day that Nash was born, was a little bittersweet in a couple different ways. Of course, everyone was overjoyed by his arrival, but I think also maybe a little sad that we couldn't have had the same with his big sister. What made it a million times harder, for me at least, was the fact that he was born amid the covid lockdowns.
I couldn't be there with my daughter as she went through the unknown. With all of the waves of emotion hitting her, I couldn't be there to hold her hand, kiss her forehead and tell her that I love her. We sat at home, by the phone, praying; and our prayers were answered.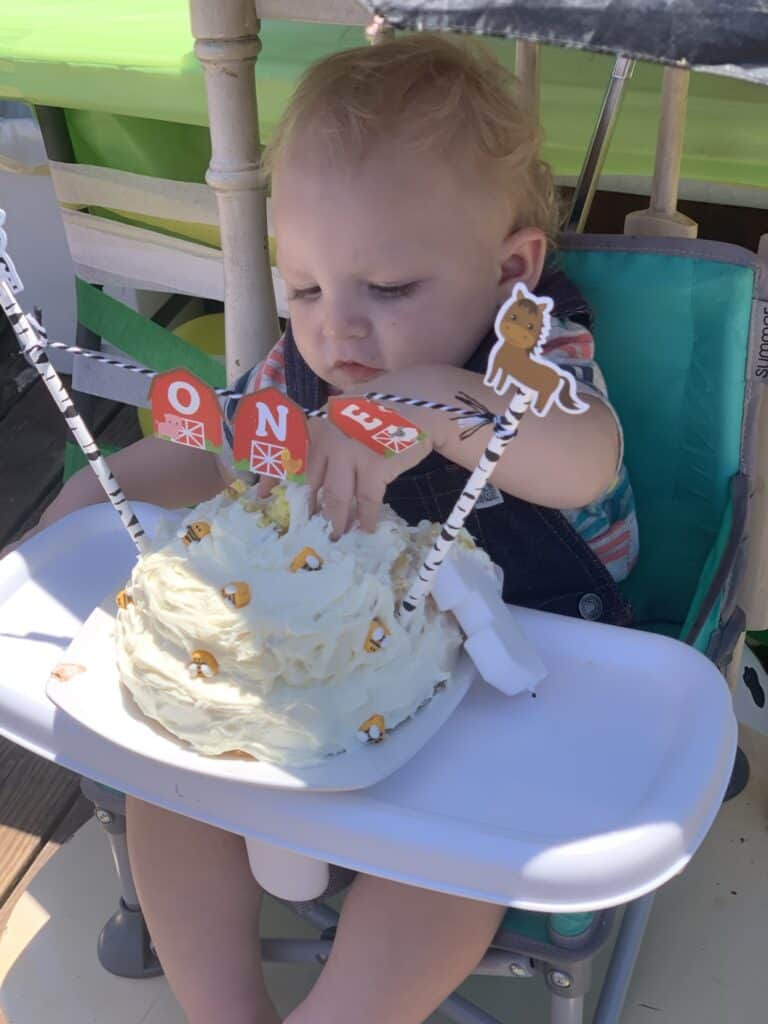 This Beautiful New Generation is Loved
The sweet little boy who has us all wrapped around his little finger is happy, healthy, and homestead bound. He is already an animal lover like his momma, kinda laid back, like his daddy and he has a Pop, Nini, and a couple of uncles who have big plans for him!
We look forward to so many wonderful years of growing, learning and loving this little boy while we all embrace the new generation on the homestead!
NEVER MISS A THING!
You may also like to have a look at some of our other content on Farm Style Parenting or Relationships.
MORE WAYS TO CONNECT
We also, as a homesteading family, have three additional blogs that might interest you.Two Oaks Farm Talkconcerns the more technical side of homesteading. We discuss subjects like gardening, food prep, and farm building and construction with lots of tutorials!
Farm Raised Familyis basically a hub for everything under the Two Oaks Farmstead umbrella. You can learn a great deal about all parts of the farmstead there. TheFarm Raised Family blogfocuses on financial matters such as budgeting, saving, and more and on current events affecting families.
You can also have a more in depth look at all that we do by visiting ourTwo Oaks Farmstead YouTube Channeland be sure to subscribe so that you don't miss a thing!
Farm Life and Freedomis the new podcast we are in the process of launching! It is going to be so much fun!
Two Oaks Farmsteadis the farm store… the one that holds the umbrella! Check us all out and join us, not only on our blogs andFarm Life and Freedom podcastbut come join the fun on Facebook, Instagram, Twitter… wherever you get social!