Gingerbread House Tradition
I am a mom who loves Christmas-every aspect of Christmas-and as such I do all of the Christmas-y traditions with my family…whether they like it or not sometimes! (Someday they will thank me!)
One of those activities that I always schedule is our annual Gingerbread House Tradition.
Every year.
Without Fail.
No matter who complains.
We have tried a variety of different ideas over the years like rice krispie treat houses, pre-made house kits and more but this year I decided to change it up a bunch!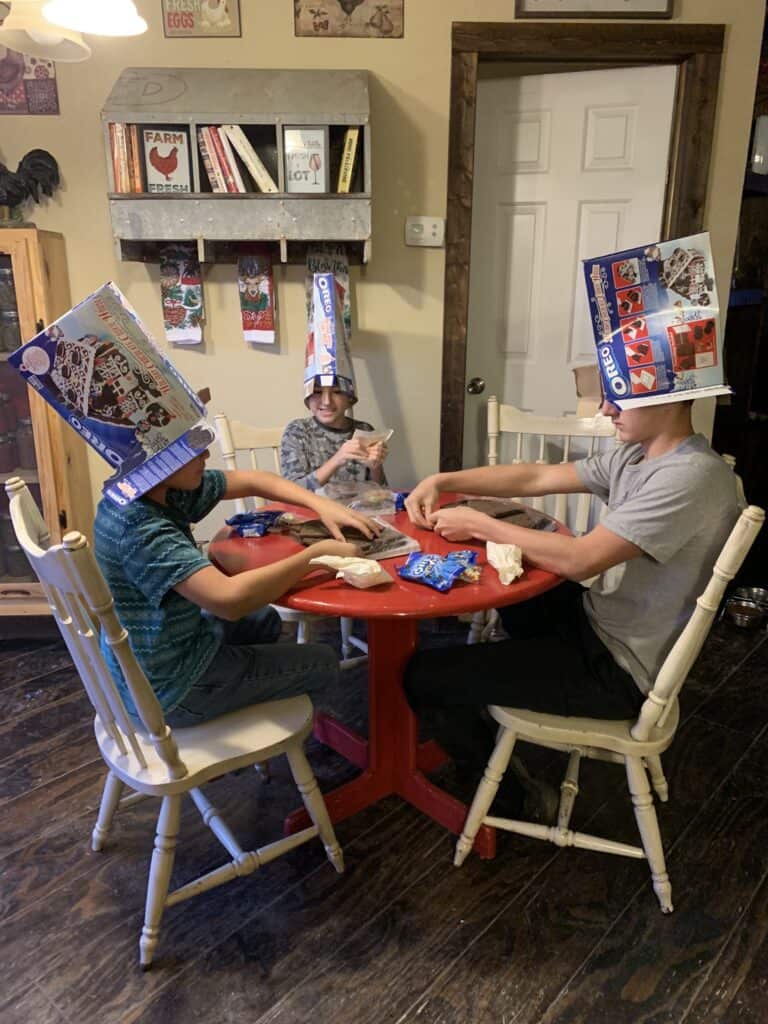 No matter what we do, the kids are always a little crazy!
Our Gingerbread House Tradition – Taking it up a Notch!
All of my kids are teens or older now so the basics don't really cut it anymore… unless I want a revolt on my hands. I always like to change things up and keep them fresh, but there's only so many ways that you can do a gingerbread house.
This year I decided that we would actually 'construct' our houses. We used wafer cookies like building blocks, using royal icing as mortar. Then, of course, we decorated the houses with all sorts of candies and what not. Details Below
However, the construction of the houses was not the only element that we upgraded. Our Gingerbread House Tradition this year also became a party with their friends! We hosted all these precious kiddos for a party so that they could all join us in this awesome holiday activity.
The kids all had a ball together.I think we may do it this way every year!
There are Many Different Pre-made Options for Gingerbread Houses or Even Great Molds to Easily Make Your Own
Setting It All Up
Gingerbread House Tradition – Construction
This was honestly a simple way to put the houses together. In fact, I found it way easier than putting together the pre-cut walls of the other kits. We cut out pieces of cardboard, 9 x 15, and wrapped them in foil as a construction base.
The wafer cookies make perfect building blocks and they are super cheap at the dollar store, which is a total plus with lots of kids! Royal icing is easy enough to make and acts as a terrific mortar to hold it all together. (Recipe Below) Topping it all off with whatever candies you want makes it that much more fun!
This was the easy part. The kids just jumped right on and got started. We had some really awesome designs in varying shapes and sizes. With this method, you can absolutely be very creative!
The decorating was a little more challenging for at least one participant (my son, mason) because he had a piping bag failure! But he made the most of it!
We really did end up with a bunch of terrific creations! I couldn't get pics of all of the final products however, because some of the guys began destroying their creations too quickly! (Half the fun apparently).
There are so Many Ways to Enjoy this Gingerbread House Tradition!
Your Gingerbread House doesn't have to be gingerbread… or even edible at all!
Gingerbread House Tradition – Pulling the Party Together
The party itself was pretty easy to pull together. No invitations, just a couple of text messages to close friends that we knew would be available. And we sure are happy that they were! It's a busy time of year so that has to be considered.
For the party set up, we just put up a couple of portable tables and covered them with disposable table covering because it gets a little messy. I made a ton of royal icing and set out a small bowl of it for each child to use as mortar. I also filled multiple piping bags to be passed around for decorating.
Of course no party is complete without food and beverages. I made up a variety of kool-aids to whet their whistles and to stave off hunger I offered a variety of finger style foods like sausage balls, pinwheels, chips and queso, red velvet cupcakes and some sugar cookie bars. No one starved!
Throw in some Christmas music and it's a perfect Gingerbread House Party! If this is something that's on your list of fun things to do with your kids, you should go for it! It is absolutely a fun activity but more than that, those memories will last a lifetime!
NEVER MISS ANYTHING
Don't forget to subscribe so that you can get all of the upcoming recipes and more! And while you are at it, be sure to go and subscribe to theTwo Oaks Farmstead Youtube Channelbecause that is where content fromA Life on the FarmandTwo Oaks Farm Talkcollide! Don't miss out!
This is the best type of icing for a gingerbread house. It dries firm and resists damage.
Ingredients
4 Egg Whites

4 Cups Powdered Sugar

1 Teaspoon Vanilla Extract

Food coloring of Choice (Optional)
Directions
Beat egg whites in a large bowl with a mixer on high speed until light and foamy.
Gradually add powdered sugar, then extract.
Use as is, or add food coloring to all or part of the icing.
Notes
You can add to piping bags for decorating. You can safely keep it in the fridge for up to a week.